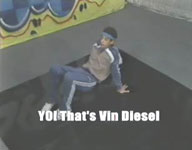 Before there was Triple X,
Before there was The Fast and the Furious,
There was Vin Diesel: Breakdance Instructor!
Vin Diesel Breakdancing 1(windows media)
Vin Diesel Breakdancing 2(windows media)
I found these on Badmouth.net which in turn found them somewhere random on the net. I'm not entirely certain what badmouth.net is about, I would have suspected movies from the "about" page, but the linked stories on the right (at time of posting) were a Fox News screwup where the anchor says "blowjob", some guy burning a plastic Garfield toy, Spock and Hobbits and the like.
Whatever, a good place to waste some time :)