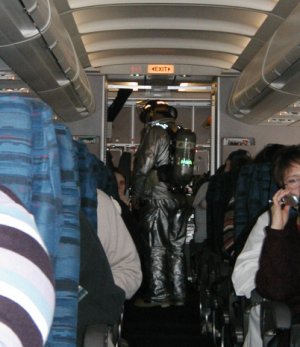 Ladies and gentlemen, this is the captain speaking, if you look out the right side of the aircraft you'll see mount raineer.

Ladies and gentlemen, this is the captain again, unfortunately we've had a hydrolic failure and need to turn around and head back to seattle, we should be on the ground within a half hour.

Ladies and gentlemen, the "maintanance crew" (see image at right) are onboard now to diagnose the problem, it should be minor and we should be back under way in 10-15 minutes.

Ladies and gentlemen, it appears the repairs will take a few hours, we've begun arranging hotel rooms for those of you who will miss your connecting flights...
It's at this point that I start to heed the word of the girl sitting in the seat next to me. She's been on the phone with her father in detroit who says that "snow and ice storms" are forecast for the next day or so for the detroit/chicaco/whole eastern side of the nation area. I elect to spend the night here and see how things develop rather than stay in chicago.
My luggage, however, will be enjoying the auto capitals attractions tonight since they were unable to remove it from the plane.