I was staring into my medicine cabinate this morning and saw a container of earplugs. It's a clear plastic jar - you can see that there are earplugs in it. It's labelled "Earplugs, in a jar". Now they have to say that they're earplugs for marketing sake, but you're looking at a jar. Is it really necessary to say, "hey, this clear thingy that looks like a jar is - in fact - a jar!!".
Made a "hat of shame" for a returning coworker. He really likes it - you can tell from the picture: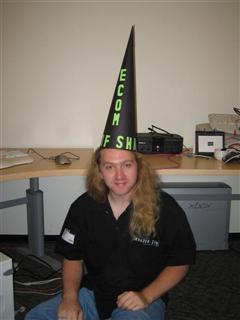 Oh yeah, the euortrip mail sound gained renewed popularity thanks to the release of the DVD. It has prompted a coworker and I to develop a new sound file for a ringtone, just substitute "phone" for "mail" in the clip - it should be good. Plus now I've now got two number one google ranks - duffman costume and Eurotrip mail - but I still can't seem to unseat an old (5 years) livejournal page as the number one for my own name.
Damn livejournal.